6 Advantages of Using Custom Wristbands for Your Event
Planning an event for a lot of guests? Wristbands have easily become the most popular way of managing your admissions and guests. This article will explore the many advantages of offering custom wristbands to your guests and the different varieties of wristbands you can choose from.
Take Control Over Your Event With Custom Printed Wristbands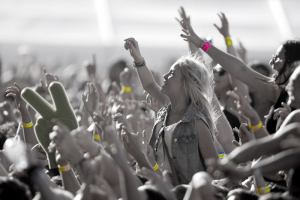 There are many different customizable options and varieties of custom printed wristbands. In addition, there are also many advantages that are available to event organizers who offer them to their guests. Here are a few of them:
1. Guest Management
When there are multiple guests at an event, it can become hard to sort. Who is allowed backstage access? Who is allowed to consume alcohol? How do you separate those with weekend passes and day passes? Offering your guests different custom wristbands is the most efficient way.
Offering different colour options for your guests is an easy way for your security detail to quickly identify the level of access an attendee has. Customizable wristbands also come with the ability to print images, text, and barcodes that will give your staff an even easier time finding out where your guests should be. They days of marking someone's hand with a wipe away stamp, or providing someone with an uncomfortable, bulky lanyard are soon to be forgotten.
2. Less Waiting
While regular admission tickets are acceptable for many occasions, they can become a hindrance in others. When guests have to prove they have backstage access or are of a certain age, the ticket can become lost in a purse, crumpled up, or simply lost. The searching for tickets will only cause longer lines, bottlenecking, and upset guests.
Identifying one's self and level of access by the simple flash of a wristband can take under a second. This allows your guests to move around and get past event staff very efficiently.
3. Durability
Having bad weather at your event and party crashers are some of any event planners biggest fears. You will never have to worry about your guests removing their wristband and handing it to a friend outside. Wristbands, tyvek wristbands particularly, are lightweight, waterproof, and are completely tamper free.
These wristbands are virtually tamper resistant due to a series of tamper shredding slits over the area of adhesion. Immediately when the adhesion settles in, attempting to remove the wristband will destroy the adhesive area. When the rain becomes a factor, waterproof wristbands will keep their strength and integrity.
4. Brand Awareness
Silicone Wristbands are an excellent way to increase awareness for your brand or a cause. They can be very fashionable, easy to hand out and slip on the wrist. The popularity of wristbands perhaps led the Livestrong campaign and their efforts to increase cancer awareness. Before the unfortunate Lance Armstrong incident, the Livestrong campaign managed to sell 80 million of their iconic yellow wristbands. These bracelets weren't hard to spot, and effectively impossible to ignore. After the success of this campaign that launched in 2004, the trend of other charities offering wristbands for their cause grew exponentially.
5. Security
Custom quality wristbands provide excellent security. For example. Tyvek wristbands are tear-resistant and feature tamper resistant adhesive and plastic wristbands can only be removed when cutting off with scissors. When you pick the right wristband, you will not have to worry about people removing wristbands and handing them off to another.
6. Safety
Camp councillors and field trip organizers dealing with large amounts of young children can reap a lot of benefits from coloured wristbands. In the event where a child strays from a group, it will be much easier to find them back safely. In addition, coloured wristbands can better identify those who have certain allergies, or aren't capable of performing certain activities such as swimming.
Different Types of Wristbands
Custom wristbands are an affordable and simple way of taking control over your event. Each of the wristbands offered by Comtix can be fully customized to meet your exact specifications. We also do not provide paper wristbands as they do not meet the high standards of our portfolio of quality wristbands. Take a look through the variety of the customizable wristband products available:
 
Synthetic wristbands come with an easy peel and stick adhesive application. They are also a more economically friendly option. Read more about synthetic wristbands.
-       Economical option
-       Fraud resistant
-       Available in many colours
-       Sequential numbering
-       more
 
Tyvek has become the industry standard material for wristbands. Comtix also provides a litter free tyvek option as well. Read more about Tyvek Wristbands.
-       Waterproof
-       Tamper resistant
-       Colour printing
-       Little free option
-       More
 

These snap fit wristbands do not stretch or tear. Once snapped on, they are only able to be cut off. They are also available in narrow and wider style. Read more about our plastic wristbands.


-       Non-stretch
-       Not tear
-       One time snap closure
-       Sequential numbering
-       more

 

Perfect for promoting your brand or cause, these silicone wristbands are easy to slip on or off. They are also able to glow in the dark. Read more about our silicone wristbands.


-       Glow in the dark option
-       Extremely durable
-       Logo and Text at no extra cost
-       Lightweight
-       More
Contact Comtix
Comtix has every custom wristband option an event planner could need. For more advice on how customizable wristbands can make your event run smoothly, contact one of us today.