CUSTOM FOOD & BEVERAGE TICKETS – THREE-PART
Three-Part Custom Food and Beverage Tickets offer further options for ticket redemptions. They can be redeemed as vouchers for breakfast – lunch – dinner, meal – drink – dessert, or any number of combinations that best fit your events needs. As always the custom design and security features make them stand out and difficult to replicate.
Complete the order form below with the required product information. Once you have completed the form, click on the Add To Cart button below.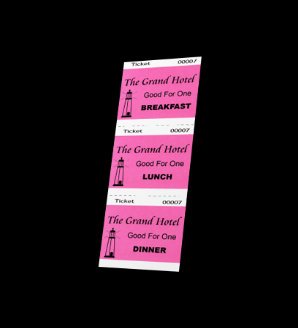 SAMPLE TICKET PRICING IN CAD/US DOLLARS
| Quantity | Price |
| --- | --- |
| 500 | $53.40 |
| 1000 | $97.80 |
| 2000 | $174.60 |
| 5000 | $387.00 |
| 10000 | $597.00 |
TICKET SPECIFICATIONS
| | |
| --- | --- |
| Paper Stock | Non-Glossy (with perforations) |
| Parts | 3 |
| Dimensions (L x W) | 1.75 x 4.5 inches |