Custom Synthetic Wristbands
Our most economical option, Synthetic Custom Wristbands are lightweight. Great for music festivals and events, these wristbands allow easy access with high visibility and low risk of loss. Stick and peel adhesives make them appropriate for any size, and barcodes can be added for extra security. These synthetic wrist bands also have an encoded UV image visible with Black Light illumination, for enhanced security.
Complete the order form below with the required product information. Once you have completed the form, click on the Add To Cart button below.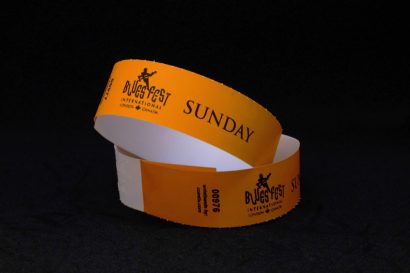 SAMPLE WRISTBAND PRICING IN CAD/US DOLLARS
5001+call for quote
| Quantity | Price |
| --- | --- |
| 500 | $47.50 |
| 1000 | $75.50 |
| 2000 | $134.25 |
| 3000 | $198.25 |
| 4000 | $253.75 |
| 5000 | $309.50 |
WRISTBAND SPECIFICATIONS
| | |
| --- | --- |
| Stock | Synthetic |
| Dimensions (L x W) | 10 x 0.75 inches |