Wrist Band – Synthetic | Custom Wristbands
---

Wristband Specifications
| | |
| --- | --- |
| Stock | Synthetic |
| Dimensions (L x W) | 10 x 0.75 inches |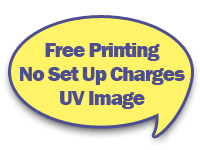 Standard Features
FREE PRINTING TEXT/GRAPHIC/LOGO
NO SET UP CHARGES
Made of a strong synthetic water resistant, lightweight material.
For wristbands use in Pool & Water Park applications, please select either our Tyvek or Plastic wristbands.
Any font - no extra charges
Sequential numbering - start at any number - no extra charges.
FRAUD RESISTANT. There is a - UV encoded image viewable under UV (Black) light illumination found over the adhesive part of the wristband. When viewed with a UV 'Black Light', the hidden image glows.
Wristbands are virtually tamper resistant due to a series of tamper shredding slits over the area of adhesion. Once adhesion sets in, attempting to remove the wristband will destroy the adhesive area & will also remove the hidden UV image.
Wristbands are applied to the wrist with a quick and easy peel and stick adhesive. Comfortably adjusts to any size.
BAR CODING Available
Quick delivery - next day for smaller orders! Same day for special orders.
Have questions? Let us know what you have in mind below or call 1.800.881.8845